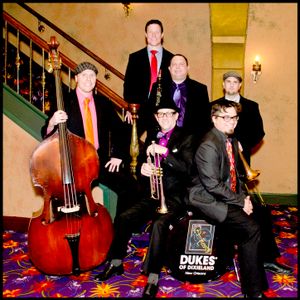 More than 20 acts are scheduled to perform at this year's Pensacola Jazz Fest, including the world famous Dukes of Dixieland, making it the biggest Pensacola JazzFestin history.  The 32nd Annual Pensacola JazzFest is a two-day musical celebration, hosted by the Jazz Society of Pensacola, on April 11 and 12 from 10 a.m.- 6:30 p.m. in Seville Square.  This free community event offers a great line-up of live jazz music performances, arts and crafts exhibits, local food vendors and lots of fun for the whole family.
    The nationally renowned Dukes of Dixieland will headline throughout the weekend, joined by a noteworthy roster of the best talent from around the region, including multi-talented pianist/keyboardist Gino Rosaria and his band, Fred Domulot playing with the Guffman Trio, Pensacola treasure Cynthia Domulot and bassist extraordinaire Tom Latenser.  Holly Shelton will bring her wit, charm and sensational voice to the gazebo accompanied by Steve Gilmore, John Link, Brent Purcell and Chuck Schwartz.  Enjoy big band music by Joe Occhipinti and his band.  Local favorites Roman Street and performances by the winners of the 2015 Jazz Society of Pensacola Student Jazz Competition will get toes tapping.
    A children's area features activities and games throughout the weekend and a "Jazz Jam for Kids" with complementary harmonicas and kazoos to introduce them to the joy of making music.  An arts and crafts showcase will feature fine art, handmade items, clothing, jewelry and more.  Savor delicious fare from a variety of quality vendors, along with adult refreshments at the beer and wine tent.  Current and past JazzFest posters, merchandise, and CDs by performing artists will be available for purchase.
    The 2015 Pensacola JazzFest promises a fun-filled weekend of lively jazz music, food, art and culture that you won't want to miss.  For more information and to see a line-up of events and music, visit JazzPensacola.com
For more about The Dukes of Dixieland, visit dukesofdixieland.com