Greensboro News & record January 2 , 2019
If your idea of Dixieland is a bunch of guys in straw hats and string ties struttin' to "When the Saints Go Marchin' In," the Dukes Of Dixieland will shake you up some. 
The sextet — David Mahoney on drums, Joe Kennedy on piano, Owen Callahan on reeds, bandleader Kevin Clark on trumpet, Wes Anderson on trombone and JD Haenni on bass — takes a more modern approach to their music. 
In a show of solidarity for their home base, the band embraces latter-day tunes from New Orleans musical royalty including Allen Toussaint, James Booker, Fats Domino and Professor Longhair. 
"It's more the Dukes from Dixieland, more than the Dukes of Dixieland," Clark says. 
To bolster that claim, Clark points to the band's back catalog. It includes a gospel album recorded in New Orleans (2016's "Gloryland," with Moses Hagan's New Orleans Gospel Choir); 2012's "When Country Meets Dixie" recorded in Nashville with the Oak Ridge Boys, including a high steppin', second-line version of the Boys' signature tune "Elvira"; and 2010's "Deep South Blues," with a loose-limbed, swingy version of "Just a Closer Walk With Thee." 
The band also cranked out an album of all voodoo tunes (2015's "New Orleans Voodoo,") as well as a tribute to Louis Armstrong, 2013's "Celebrating Satchmo," with bassist JD Haenni performing a credible gravel-throated Armstrong impersonation on tunes including "Mack the Knife" and "What A Wonderful World." 
Although they bear the same name, this group is not the classic Dixieland band the Assunto Brothers ran from 1950 to 1974. 
"That original band, we're not affiliated with them at all, I wanted to make that real clear," Clark says. "They're a separate thing, like a separate part of New Orleans history that started with the name.
Without getting into any legal mumbo-jumbo, the band was bought by our manager at the time and then continued on. Our manager, John Shoup, he's financially kept it going. If it weren't for him, I don't think the Dukes of Dixieland would be happening now." 
But these Dukes have taken a different approach to the music, coloring outside the confines of Dixieland style. The title of an Allen Toussaint song, 2013's "Here Come The Girls," celebrated modern New Orleans artists. But this group still does some of the classics the original Dukes did, intermingled with the older stuff. 
For the Greensboro show with the Greensboro Symphony Orchestra, the Dukes will present a mix of old and new. 
"We're going to do an Allen Toussaint medley, and the strings play with us on one of 'em. Then we do one by ourselves, and then we do another one with the orchestra. There's a segment there that's like a New Orleans R&B segment, but then we're also doing (Louis Armstrong's) "What A Wonderful World," and we do an early New Orleans medley that has some New Orleans street beat music in it. We cover a lot of territory." 
Like their predecessors, the players are given room to stretch out. In the original group, Frank Assunto told his members "This is a jazz band. It's not a prison. So have a ball. Play good, that's all.' 
Clark's advice to newbies is along the same lines. "When I hire guys, I say, 'I'll call the tunes, and you play the (expletive) out of 'em. The whole band is handpicked from New Orleans' finest players, probably the best band I've been on, and I started with the band 25 years ago." 
Although they can sound like a traditional Dixieland band, on the more modern stuff, they resemble a brass band fronted by a soul singer, with trombonist Wes Anderson dishing out smooth soul on songs such as "Here Come The Girls," popularized by legendary New Orleans singer Ernie K. Doe ("Mother In Law," "Certain Girl"). 
"I think the band now is the quintessential New Orleans band," Clark says. "Whatever you want, we can do, any New Orleans tunes we can grab." 
Their set list includes Dr. John, Fats Domino's "Blue Monday and "Hello Josephine," as well as Trombone Shorty's grandfather Jessie Hill's 1960 hit "Ooh Pah Pah Doo," that promised to "create disturbance in your mind." Huey Piano Smith and the Clowns' raucous, rattly rockers "Rockin' Pneumonia," and "Don'cha Just Know It" are recent additions as well. 
"The groove is so sick it's ridiculous, I can't believe it," Clark says. 
Clark says the band can also play a whole set of Louis Armstrong, Sidney Bechet or Jellyroll Morton. 
"Our repertoire is well over 300 in circulation and probably another 200 we hit every now and then." Mixed in with Crescent City stalwarts Professor Longhair and James Booker are Tom Waits, the Doobie Brothers and Justin Timberlake. 
"It's a fun band, happy, fun music," Clark says. "We don't do very many tunes that are heady or drawn out, and you have to think a whole lot. It's very accessible. When you really listen to it, as a musician, you can tell there's a lot going on there. It doesn't matter where you are in music appreciation, I think the legacy is of a band that's having fun, the musicians enjoy playing, and that shows."
By Grant Britt
November 30, 2012 - Times Picayune
Dukes of Dixieland tape live performance Nov. 30 for PBS' upcoming 'Celebrating Satchmo' special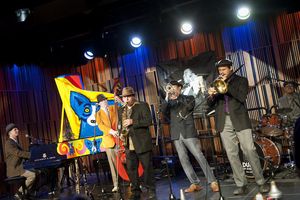 New Orleans trad-jazz ensemble the Dukes of Dixieland recorded a live performance Friday, Nov. 30, for the PBS film "Celebrating Satchmo," scheduled to air in 2013. The taping took place between 1-4 p.m. at the Louisiana State Museum's new, state-of-the-art performance space on the third floor of the Old U.S. Mint, on Esplanade Ave. The Dukes, naturally, performed renditions of tunes Pops made famous, including "Hello Dolly," "A Kiss To Build A Dream On," and others.

The current lineup playing under that name dates its own origins back to 1974, when the last of the original leaders passed away. Since then, many players have passed through the band's ranks.

The 2012 version of the Dukes can be seen most often, these days, during nightly jazz cruises on the Steamboat Natchez. The band's most recent album is When Country Meets Dixie, released in early 2012, which features four tracks recorded with the Oak Ridge Boys -– including a reimagining of the Oaks' 1981 #1 country single "Elvira."

-Alison Fensterstock
Photo Gallery

Times Picayune Article
 
May 18, 2011 - Boston Globe
Boston Pops celebrate familiar sounds of New Orleans and Mardi Gras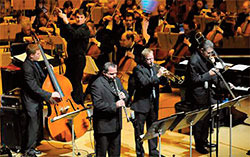 If one extrapolated the Boston Pops season to a full year, it might well be just about time for Mardi Gras, the theme of this week's concerts from the Pops and conductor Keith Lockhart. Mardi Gras normally marks the last day before the onset of Lent; where Christians dread the privations of that penitential season, adaptations can be found. The concert sampled such international variants, a demonstration that last-chance partying knows no borders.

The home base, not surprisingly, was New Orleans. Lockhart and the evening's featured guests, the Dukes of Dixieland, led a pre-concert, homage-to-Bourbon-Street parade, pulling up to Symphony Hall in a newly christened duck boat. Following a frisky reading of Dvorak's "Carnival Overture,''the concert shifted into gear with the "Mardi Gras''finale of Ferde Grofé's "Mississippi Suite,'' cake-walking strut given production-number polish.

The young pianist Charlie Albright, already the successful veteran of several competitions, dished out handfuls of impressive, brawny sparkle for New Orleans-born Louis Moreau Gottschalk's "Grande Tarentelle,'' the 19th-century pianist-composer indulging an Italian accent (Martedí Grasso, perhaps). There was a full set devoted to the Latin American tradition of Carnival, arrangements in the glossy Pops style; Luiz Bonfá's sultry "Manhã de Carneval'' and Quincy Jones's playful "Soul Bossa Nova'' were especially fine performances, lush, luxurious sway over solid grooves.

It made for a rather refined carouse, more pearls than beads, but there were sly references to the party's pre-Lenten desperation.When a sextet of Boston Conservatory musical theater students unleashed proficient razzmatazz on a food-themed medley, it was a reminder, as Lockhart noted, ofCarnival's etymological roots as a farewell to meat.And the ancestry of Gottschalk's tarentella, after all, is a dance to stave off death.

The Dukes of Dixieland played a set touching on both tendencies,full of New Orleans favorites: "When the Saints Go Marching In,'' "South Rampart Street Parade,''Allen Toussaint's chinoiserie-garnished "Java,''made famous by Al Hirt. The orchestral arrangements dressed the stylized nostalgia in its Sunday best, as it were, but there were improvisation-fueled moments— led by pianist Scott Obenschain, Meade "Lux''Lewis's "Honky Tonk Train Blues''was especially raucous—that reached for more frantic joy, as though the clock could be turned back with sheer rhythmic energy. Keith Lockhart led the Dukes of Dixieland and the Boston Pops during last night's Mardi Gras-themed concert, with music by Allen Toussaint and Meade "Lux''Lewis. (Stu Rosner) Such spirited railing against the calendar is at the heart of Mardi Gras.At least traditionally, the next day brings ashes.

By Matthew Guerrieri
Globe Correspondent
May 18, 2011

Boston Globe Article
 
LaJornada Mexico, September 2010
The DUKES performed at the Third Regional Meeting of Jazz in West Central Aguasclientes on September 4, 2010.
Quote from newspaper: "Listening to the DUKES with your eyes closed, you will imagine you are traveling on a riverboat down in New Orleans"