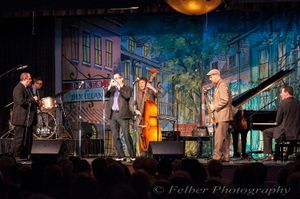 Posted: Thursday, February 4, 2016 9:30 am 
BY LINDA VIEIRA, Sun Lakes Life | 0 comments 
The Friendship Club proudly presents "The Dukes of Dixieland, Celebrating Satchmo" on Feb. 14. Formed in 1974 by producer John Shoup, the Dukes opened their jazz club atop the Monteleone Hotel in the French Quarter, calling it "Dukes' Place" with the blessing of its previous owner, Louis Prima. Playing four sets a night, often lasting until dawn, Dukes' Place also became the home base for many jazz sessions produced by Shoup for PBS, including the early Marsalis family, Stephane Grappelli, Les McCann and Toots Thielemans. 
The Dukes started accepting 30 dates a year with orchestras, festivals and Performing Arts Centers in the USA and overseas, never straying long, before returning home first to Dukes' Place until 1986; then to a new home on Bourbon Street called Mahogany Hall. 
In 1978, the Dukes recorded the first Direct-to-Disk album, and then, in 1984, were the first jazz band to record on CD. In 1980, they recorded a television special at the old Civic Theater in New Orleans, with the New Orleans Pops Orchestra and later performed in a TV special with Woody Herman, "Wood Choppers Ball." 
In 1986, they invited jazz master Danny Barker to perform with them at Mahogany Hall to record a television special "Salute to Jelly Roll Morton." In 2001, their gospel CD "Gloryland" was nominated for a Grammy. Also that year, they recorded a CD titled "Country Meets Dixie" with The Oak Ridge Boys in Nashville, Tenn. 
In 1992, they moved their home base to the Steamboat Natchez, where they have remained ever since. They still perform only 30 concerts a year with eight different themes: "Mardi Gras," "Blues on the Bayou," "Symphonic Jazz," "Voodoo Revue," "Celebrating Satchmo," "New Orleans Jazz Legends," and "Back to Bourbon Street." In-between, they continue to work the dinner cruise on the Natchez for 45 weeks a year, seven nights a week. 
They also find time to record 26 albums, produce three PBS television shows "New Orleans Pops"; "Salute to Jelly Roll Morton" and "Celebrating Satchmo," and stream one show a week on the internet. 
Unlike their Dixieland name, the Dukes play New Orleans music, from Dr. John and Fats Domino to Huey Smith and Louis Prima, not to mention many of their own original tunes. With a repertoire of roughly 400 songs, they are the pre-eminent New Orleans band as well as New Orleans Ambassadors. 
They have performed with symphony orchestras, including the Cincinnati, Cleveland, Chicago, National, New York Pops (in Carnegie Hall), and 29 other orchestras around the world. In 2005, they traveled aboard the Natchez up the Mississippi and Ohio rivers to Cincinnati, Ohio, raising money for the Bush-Clinton Katrina Relief Fund, while many of the band members' homes were still destroyed. In 2011, they performed with the Boston Pops. 
Don't miss the lively New Orleans jazz presentation by "The Dukes of Dixieland," celebrating the music of Satchmo — Louis Armstrong, on Feb. 14. Tickets for this remarkable show are $20 for members, $25 for non-resident guests. Doors open at 6 p.m., and the show begins at 7 p.m. Make checks out to Friendship Club, and drop them off at 5168 Rio Bravo Drive. 
As usual, the SLCC restaurant will be open with a special menu from 4 to 7 p.m. the evening of the show. For cancellations and information, call Pat at 845-3789 or Judy at 797-0265. 
Save the date for the Friendship Club's next show on March 13: A special tribute to Jackie Wilson called "The Legacy," performed by his son Bobby Wilson. Bobby is a great artist in his own right, playing R&B, Motown, and legendary soul music.