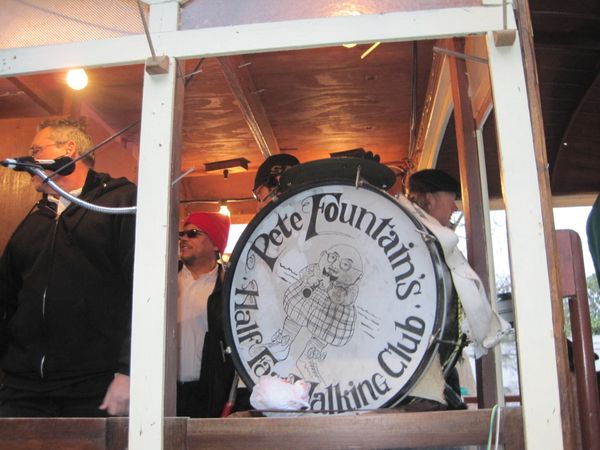 Pete Fountain's Half-fast Walking Club
I feel fortunate to have performed over the years with legendary clarinetist Pete Fountain. My first concert was the mid 90's at the Riverfront Hilton where Pete had his showroom.  I remember the large, eager crowd occupying the Las Vegas style theatre and the heavy crimson curtain that peeled back  as the band opened with
the Jazz Me Blues
.  I remember the audience gasping with three notes of his hit, 
Just a Closer Walk with Thee
.   I also remember Pete's presence and presentation of the classic New Orleans songbook.  He refined all the tunes to fit within an hour and a half show with little dialogue.
 He let his clarinet do the talking.
Over the years I have had the opportunity to perform on Mardi Gras morning with Pete's Half-fast Walking club.  The band is comprised of New Orleans musicians and we ride on a float that resembles a street car.  The atmosphere is pure delight as we gather at Commanders Palace for a 7AM departure.  Each year the Krewe is identically dressed, this year's theme was GREEN suits (with a Green fodora).  As we step off toward St. Charles Avenue the band roars away with the first selection.  Our coarse takes us down St. Charles Avenue to Canal Street and into the French Quarter.  As we saunter and trickle down the street, Mardi Gras revelers beg for throws with HUGE smiles on their faces, chanting, "Throw me something Mister!"
This defines FAT TUESDAY!